Unsplash + Zoom
Spice up your Zoom video meeting with a virtual background from Unsplash.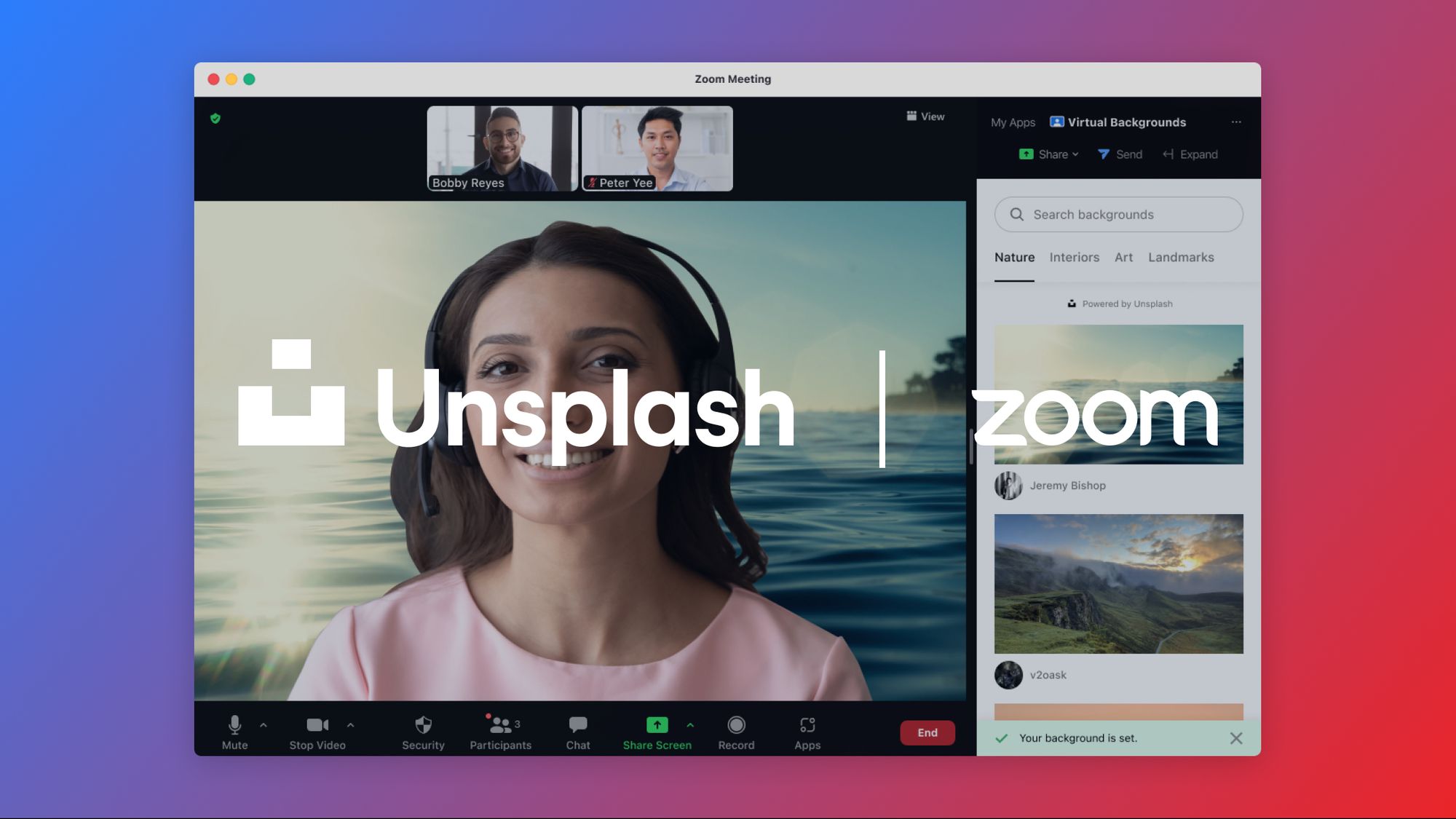 If you didn't know what Zoom Video Communications, Inc. was before March 2020, it's likely you do now. Zoom has been at the forefront of making it easy to stay connected with friends, families and co-workers from all over the world.
Not to brag, but while many workplaces around the world have been reevaluating their relationship with remote work these past two years, Unsplash has always had a fully-distributed team. From Montreal to Vancouver to London — we're spread out around the world.
So needless to say, video meetings are second nature to our team. From larger team meetings to quick catch ups, we rely on Zoom to communicate throughout the day. We love Zoom so much it's even on our hire page.

Like Unsplash, Zoom spans the globe, helping people from all over the world communicate. And since we've all been spending so much time on the platform - why not try and make it visually stunning?
That is why we are so excited about introducing the new Virtual Backgrounds app for Zoom  that makes it super easy to find the perfect Unsplash background for your next video meeting.

How to add a Virtual Background to your Zoom call
Step 1: Click the Apps icon on the Zoom Meeting toolbar
Step 2: Click on "Virtual Backgrounds"
Step 3: Scroll through or search for an Unsplash image
Step 4: Hover over the image and click "Set Background"
So whether you want to cover up a messy room, or simply pretend you're taking a call from a tropical beach — you can easily change your Zoom Meeting background with the help of Unsplash.
---
More on Unsplash Partnerships. This is part of our continued mission to enable creativity by making quality visuals openly accessible.
5000+ partners including Squarespace, Medium, Dropbox, Trello, Adobe, Google, Sketch, Square, Wix, InVision, Typeform, PicsArt, WeTransfer, BuzzFeed, support this mission by officially integrating with the Unsplash API.🔥