Unsplash + Prezi
The entire Unsplash library is now available directly in Prezi — the visual communication platform that helps you connect with your audience through more dynamic videos, presentations, and graphics.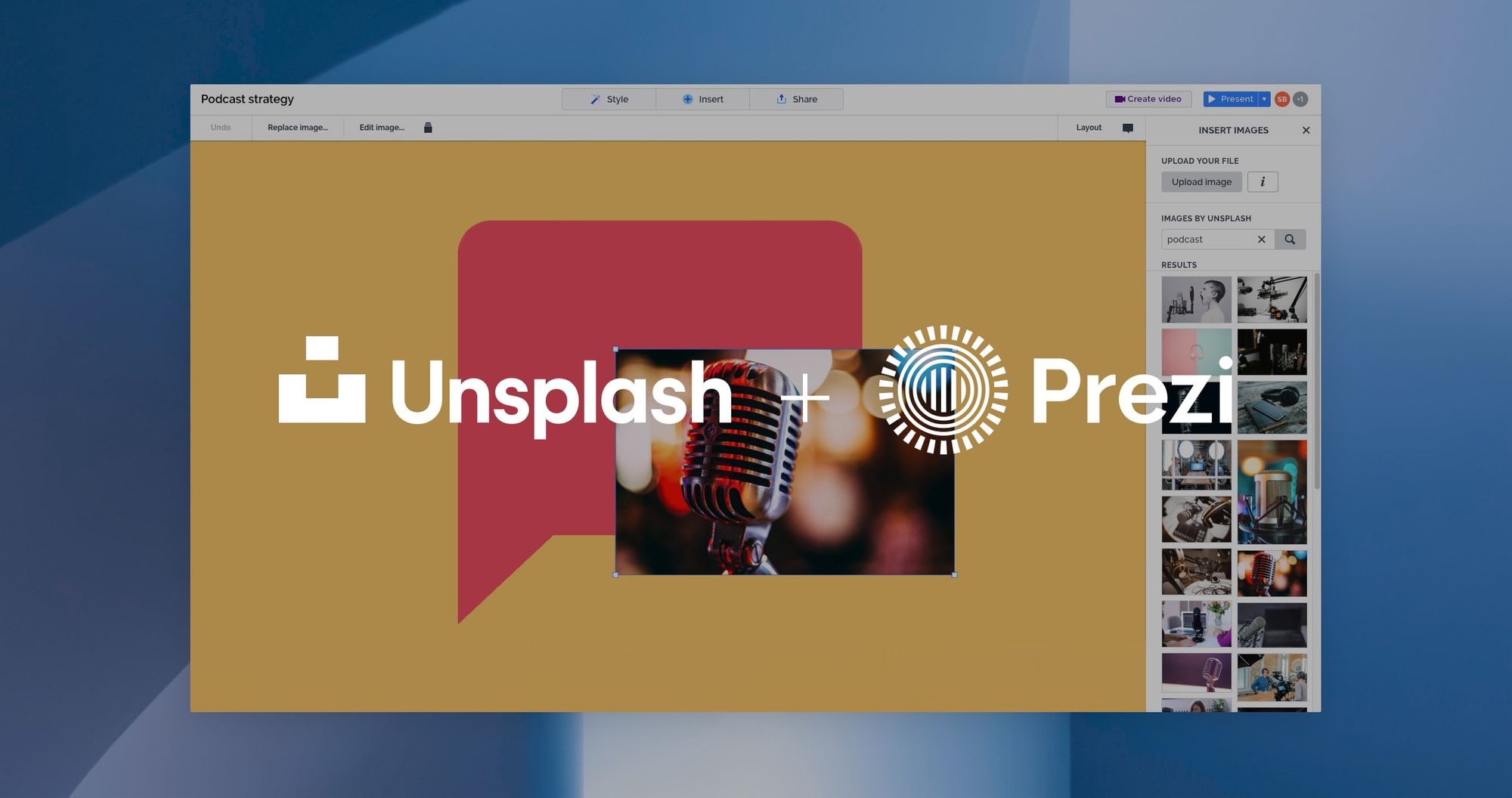 How does the saying go again? Don't judge a book by its cover, or a presentation by its slides. Well, it's safe to say - at Unsplash, we disagree. Because when it comes to communicating your ideas, we think the visuals you use to convey meaning play an important role.

Who's with us? Pretty sure we've all sat through enough lack lustre presentations in school or at the office to attest to the fact that an inspiring presentation can go a long way in elevating ideas and capturing the attention of your audience. And let's be honest here — your presentation is most definitely being judged — from the font choice to the template used.

So the next time you're giving a presentation, look no further than Prezi. They've got the goods to visualize your ideas in a way that engages your audience, with their designer templates, reusable presentations, customizable graphics, and more. Plus, Prezi Video even allows your content to appear beside you as you present via recorded videos and live video calls — which lets face it — is the main way we're communicating with colleagues these days.
Prezi: A better way to present
Often, a nice looking presentation is no easy task, and takes a lot of work behind the scenes. But with Prezi, their templates are easy to use and quick to customize — so there's no need to start from scratch, unless you want to. Plus, you can make your presentation your own in seconds by customizing charts, graphics, and adding images (more on that later).
But what sets Prezi apart? Their presentation software allows you to create immersive visual experiences that take your audience for a ride — adapting your presentation as you present and zoom in on areas that matter most. What you're left with is a presentation that's engaging, memorable and persuasive, every time. And they've got the science to back it up.
Unsplash + Prezi
And now, Prezi's got the inspiring images to match, with our recent integration making the entire Unsplash library available directly in their platform. Finding the perfect photo for your presentation just got a whole lot easier.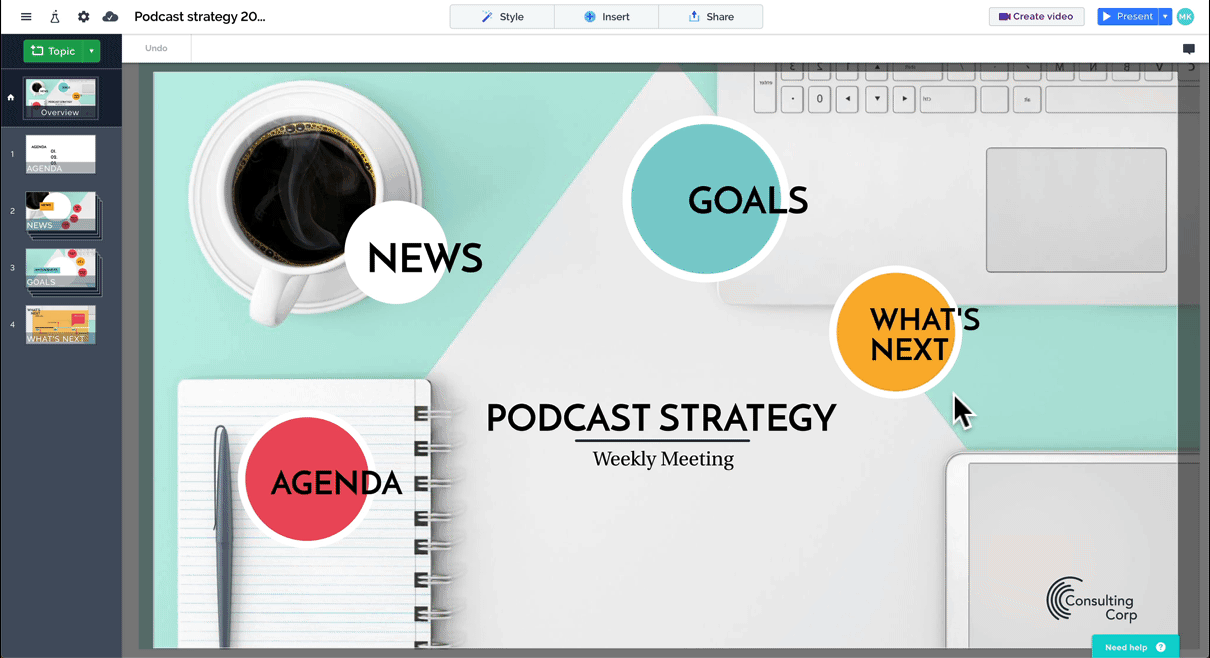 ​Adding an image is easy. While in the Prezi Next editor, simply:
​​Click the Insert button at the top of your screen, then select Image.
​​Search through the Unsplash library by keyword. Once you find an image you'd like to use, just click on the thumbnail or drag and drop it into your presentation.
​​From there, you can click on Edit image to crop the image, add filters, adjust the brightness and contrast, and more. Visit the Prezi support page to learn more about adding and editing images.

New: Unsplash + Prezi Video
If we've learnt anything in the last few months — it's that video has been essential way to communicate ideas and stay connected while we spend more time than ever indoors. Which is where Prezi Video comes in. Whether you're creating async videos for online learning or delivering a live virtual sales pitch on a video call — Prezi Video allows you to appear right alongside your content as you present, making any presentation more engaging and meaningful. Better yet, you don't need any design or post-production experience to add images to your videos.
And the entire Unsplash library is now available directly in Prezi Video — allowing the teachers, students and marketers to find the perfect image for their next recorded or live video conference.

Once you've picked a Video template in the Prezi Video editor, simply:
Type your keywords in the search bar (where it says "Search for images on Unsplash")
Click on the image you'd like to use
Repeat steps 1 and 2 for each frame

...and that's it. You're ready to start presenting beautiful and engaging video presentations live in your video conferencing app of choice or recorded for a later viewing in minutes.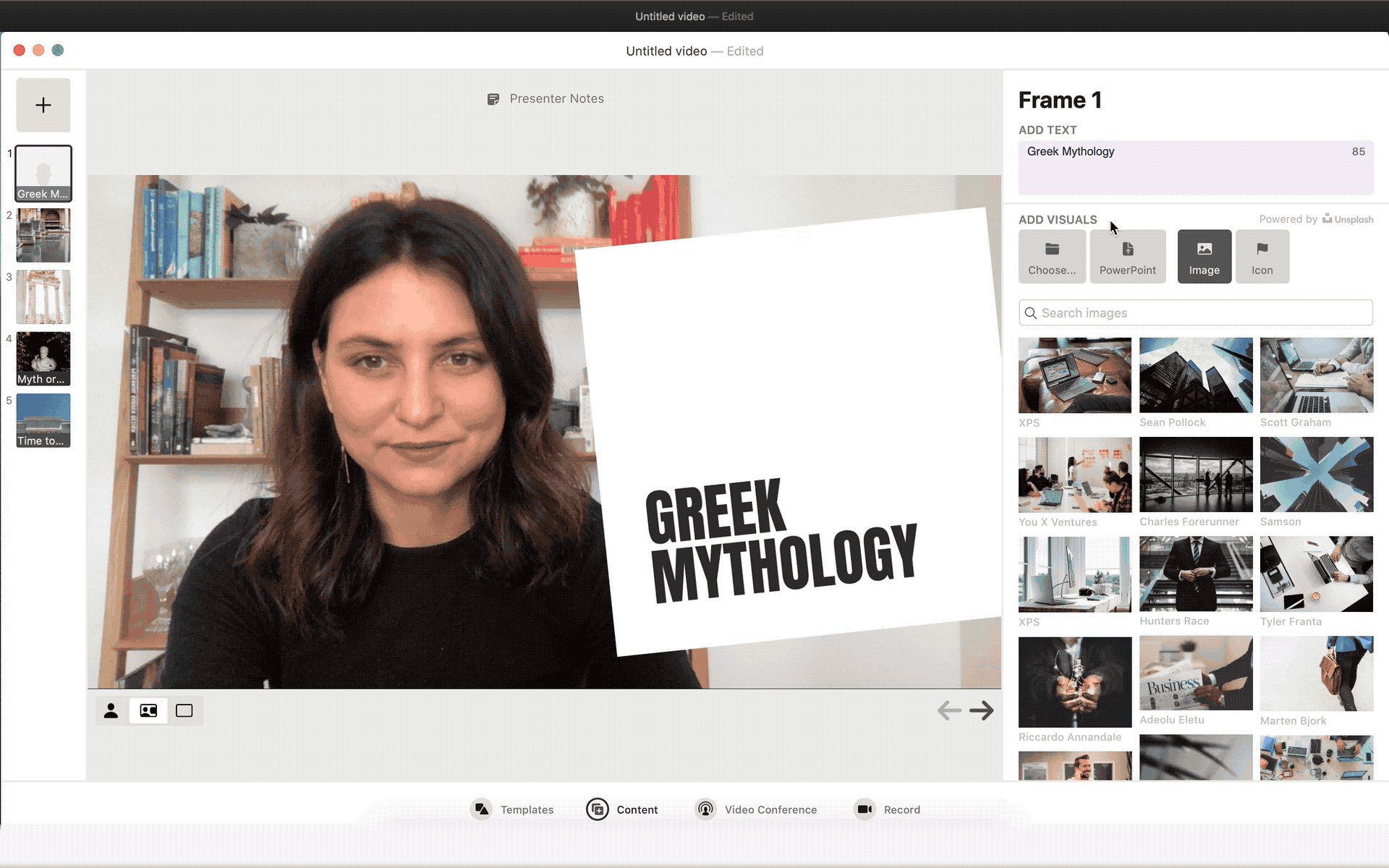 ---
More on Unsplash Partnerships. This partnership with Prezi is part of our continued mission to enable creativity by making quality visuals openly accessible.
1605 partners including Squarespace, Medium, Dropbox, Trello, Adobe,Google, Sketch, Square, Wix, InVision, Typeform, PicsArt, WeTransfer, BuzzFeed, support this mission by officially integrating with the Unsplash API.🔥