Unsplash ⨉ Instructure
Connecting young minds to unlimited inspiration through our latest partnership with Instructure.
Whether you're still in school, or years away from your high school graduation — we can all remember the struggle of finding the perfect images to complement your presentation the night before a big project was due. Scouring the web for pictures of renowned architecture like the Pompidou Museum or the Louvre for what felt like hours, only to settle for less than inspiring images in the 11th hour.
Fast forward to the days of Unsplash, and students and teachers from around the world use the platform daily to create presentations, reports, graphics, blog posts, digital artwork and lots more. From university professors inspiring their students with images of constellations in an Astronomy lecture, to Grade 1 students finding images of the ocean to learn about the world around them — we've worked to create a dedicated space for education on Unsplash with our latest Unsplash for Education campaign. The platform features images of everything from current events, architecture and science, as well as renowned images from institutions such as the New York Public Library. It's exciting to think of the ways that Unsplash images will inspire and foster education around the world.
Canvas: Instructure's innovative learning experience
That's why we're so excited to partner with Instructure for our latest Unsplash for Education project. They create tools to empower people to grow and succeed in their education and careers. Their Canvas Learning Management Platform makes education efficient and effective, by helping teachers and students create digital learning spaces that reflect their specific needs.
Find Unsplash images in Canvas
Unsplash's library of over 1 million free, inspirational, curated images can be accessed straight on Instructure's Canvas platform — enabling students and teachers to find images they need for their courses. You'll find Unsplash images in Canvas Commons and Canvas Course Slides sections of their education platform. And now, as of January 2020 — Unsplah is integrated in Cavas' Rich Content Editor!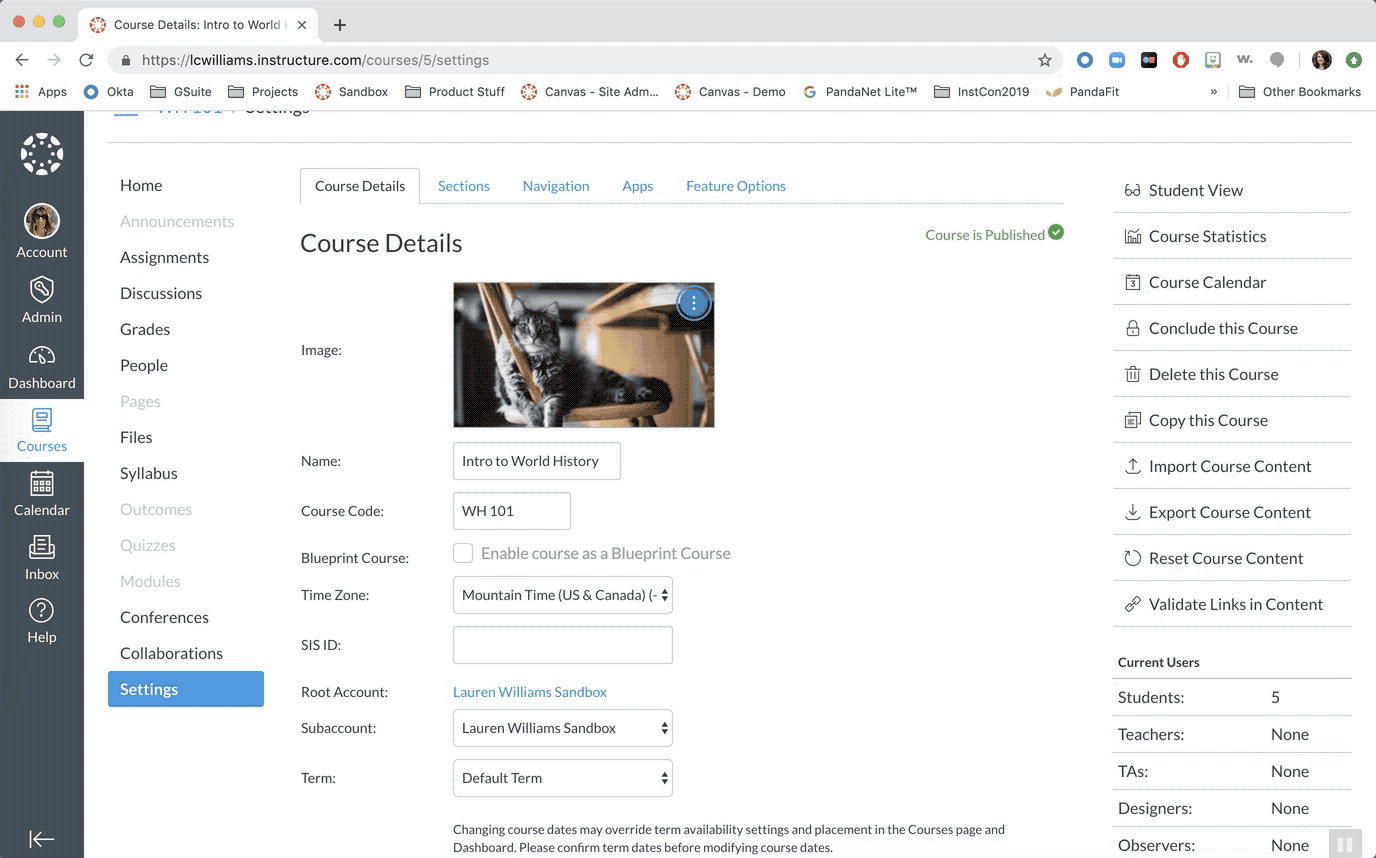 How to insert an Unsplash image
On the Course Details page, click Choose Image in the Image section at the top of the page.
Select Unsplash instead of From Computer from the top panel options.
Search the Unsplash library to find relevant images.
Once you've found the perfect image, click on the image, and press Submit to insert the image to your Page.
Pro Tip: If you'd like to see a photographer's Unsplash profile while you're searching for images in Canvas, simply click the photographer's name on the image thumbnail to be redirected to the rest of their photos on Unsplash.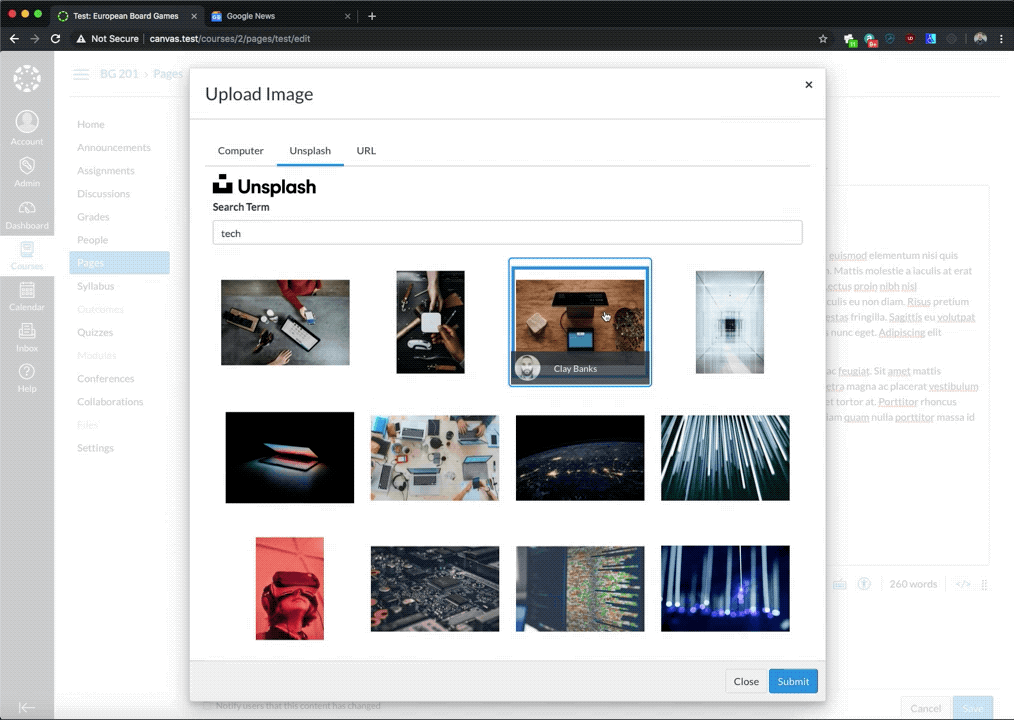 Unsplash found in Canvas's Rich Content Editor
Now, Unsplash images can be found directly in the Canvas Rich Content Editor, making it easier than ever to integrate imagery into announcements, assignments, discussions and pages on the platform.
For institutions using the Rich Content Editor, you'll find Unsplash photos under the Unsplash tab when uploading an image.
It's no secret that photography is a powerful tool — it has the ability to inform, inspire and innovate in our daily lives. And now, photography can bring lessons to life with the help of Unsplash. We can't wait to see how Unsplash is used in education around the world.
---
Unsplash at Instructurecon
To announce our integration with Instructure, we packed our bags and flew out to Long Beach, California to participate in InstructureCon — a 3-day technology and education conference.
Right when we got there, it was exciting to see how much the integration with Unsplash meant to teachers attending. Instructure's partnership with Unsplash was announced during the opening statements at the event, and the crowd actually erupted in cheers! Later, we spoke to Becky Frost, Instructure's Senior Director of Communications, who told us:
At Instructure, we're always working on ways to best enable teaching and learning, and one of the main things we remember when we're learning is images. It's really important for us to take images and use them to help reinforce and even teach key concepts, which is why our partnership with Unsplash is so important to us.
During the event, Tanya, the head of Community here at Unsplash, also had a chance to give a presentation to InstructureCon attendees about our platform. From speaking about how Unsplash images are safe to use for all ages, to showing off a sneak peek of our new integration with Instructure, teachers got to see the benefits of Unsplash for their classrooms in action.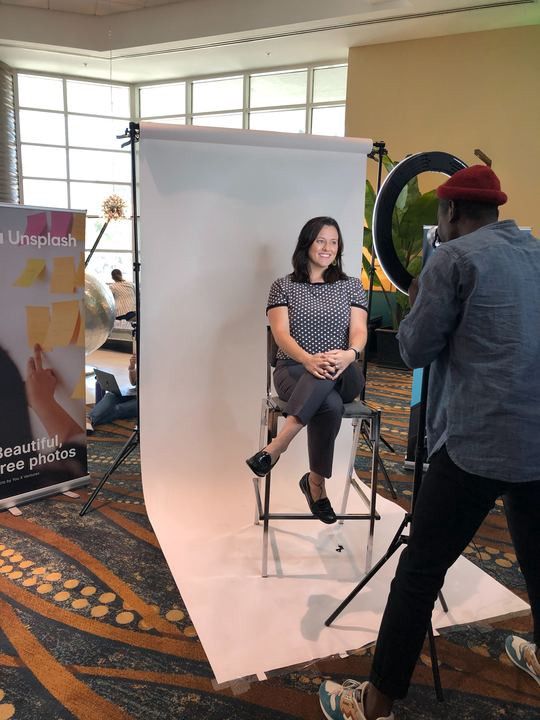 Since InstructureCon was in California, we were excited to involve community member Charles Etoroma, a photographer and art director based in LA. Not only did he run the oh-so-popular Unsplash headshot station, he also took lots of behind the scenes videos of the event that we shared over on Instagram (check out our highlights to go take a look).
The InstructureCon event was an amazing opportunity to hear from teachers first-hand on how they use images while working with students, and how Unsplash would now be making a difference in their classrooms.
---
More on Unsplash Partnerships. This partnership with Instructure is part of our continued mission to enable creativity by making quality visuals openly accessible.
1200 partners including Squarespace, Medium, Dropbox, Trello, Adobe, Google, Sketch, Square, InVision, Typeform, PicsArt, WeTransfer, and Semplice, support this mission by officially integrating with the Unsplash API.🔥