Unsplash + Confluence
Bringing 2.5 million+ high quality images to Confluence
At Unsplash, we've always been a remote team, so platforms that make it easier to communicate and collaborate have a special place in our hearts.

The key to remote work is communication and organization, and what's easier than having everything - from meetings to documents - in one spot. Enter: Confluence.

Confluence is a team workspace where knowledge and collaboration meet in one place from virtually anywhere. Their platform keeps everyone organized and aligned, so they can make better decisions faster and be more responsive to change.

Our exciting partnership with Confluence will allow you to customize the look of your team's space by using our 2.5 million+ image library.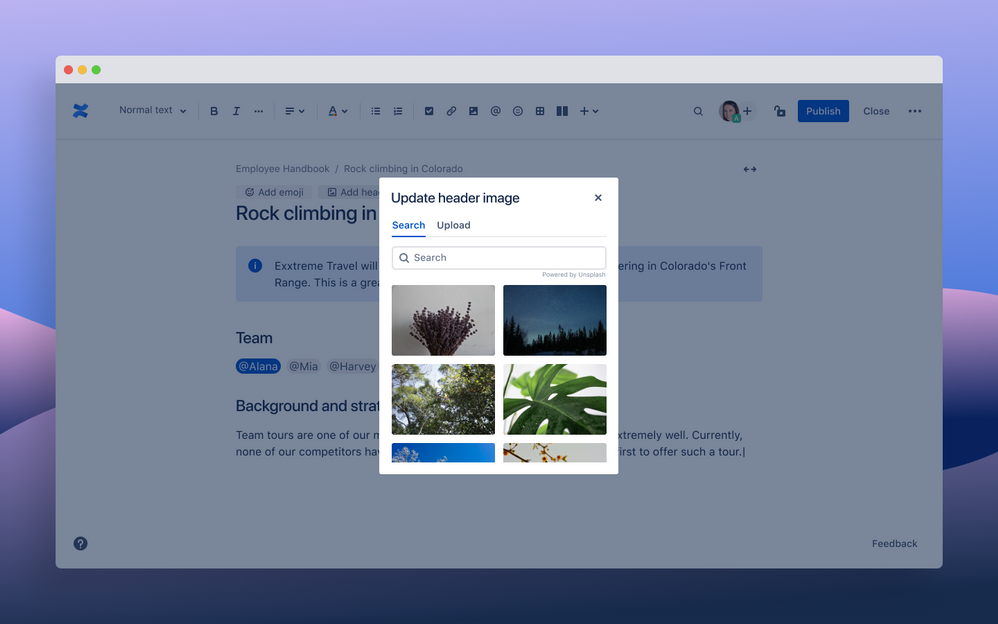 Adding an Unsplash image to your Confluence page
Confluence has made it really easy to pair your ideas with usable, high-quality images in one go. The integration provides a huge library of high-quality images brought by Unsplash's community of over 200,000 photographers so you can easily search and drag-and-drop to brand, customize and style your workspace.  

Confluence has been helping teams do their best work since 2003. By bringing everyone together in one place, their mission is to help unleash the potential of every team.

So, let's see what happens when you create a more open and organized workspace— and have the power of the Unsplash community with you, every step of the way.
---
More on Unsplash Partnerships. This integration is part of our continued mission to enable creativity by making quality visuals openly accessible.5000+ partners including Squarespace, Medium, Dropbox, Trello, Google, Square, Wix, Figma, Portal from Facebook, Zoom, WordPress, WeTransfer, BuzzFeed, support this mission by officially integrating with the Unsplash API.🔥