Unsplash Awards 2021 Selections
Drum roll 🥁, please...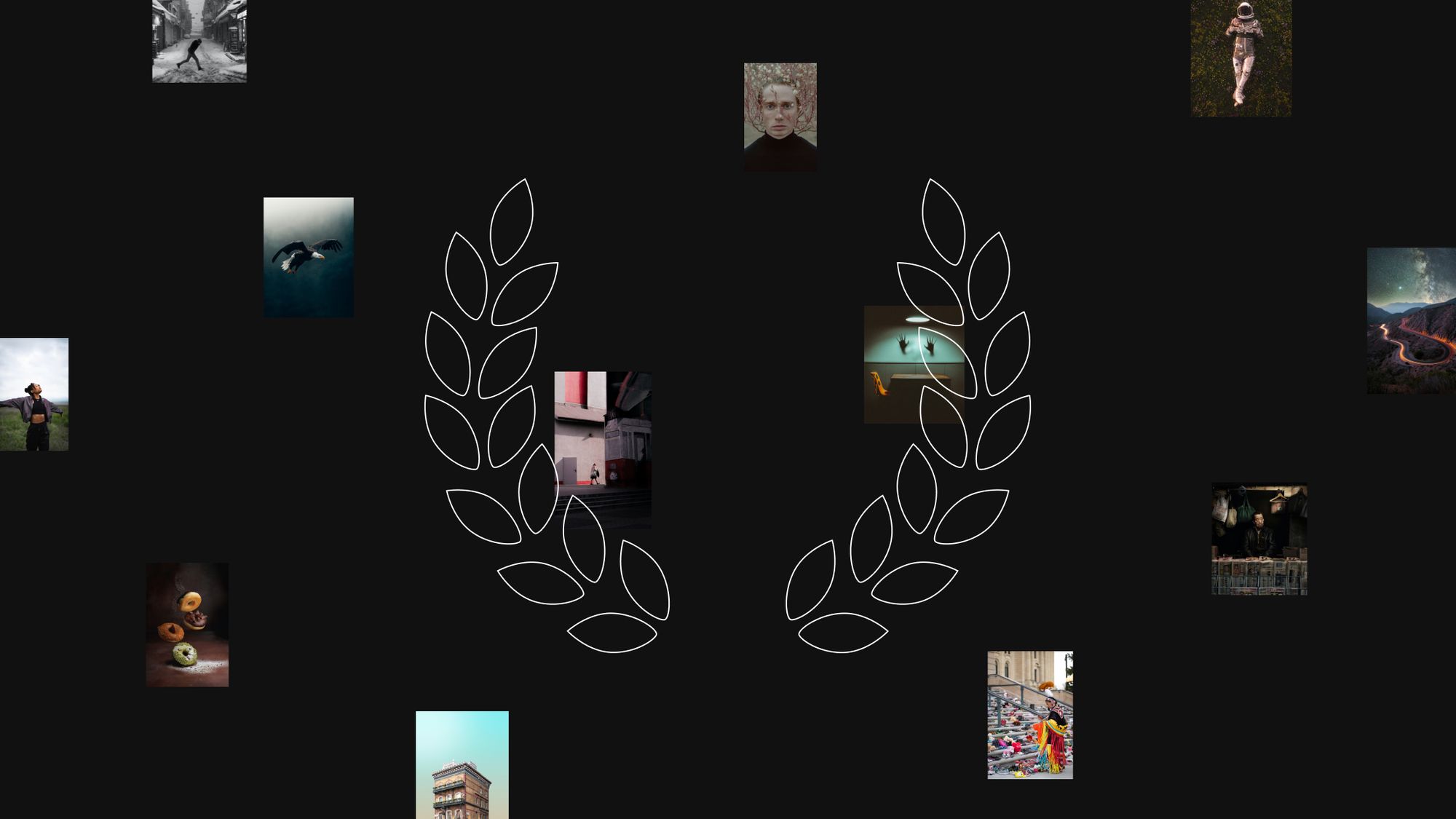 The fifth edition of the Unsplash Awards have come to a close and it is officially time to celebrate the finalists. But first, we need to say a huge thank you to everyone who took the time to submit an image, or supported the Awards this past month. And of course, thank you to our amazing panel of Judges who had the nearly impossible task of selecting this year's finalists. We couldn't have done it without you.
We love the Awards because it's the time we get to celebrate you. Whether you're new to Unsplash or have been contributing for years — every day you push the open photography movement forward with your creativity and generosity.
So without further ado, let's recognize the finalists from each category and celebrate the creators behind each selected image.
---
Nature
Finalist: Philipp Pilz
Judge: Josh Raab - National Geographic
"The bald eagle caught mid-flight is a wonderful moment in time captured by Philipp Pilz. The gradient from light to dark creates a nice gradient background, centering the viewers eye on the subject. The rain throughout the image really ties it all together, separating this image from the rest."

— Josh Raab

Shortlist:
Alex Diaz
Dan Asaki
Eberhard Grossgasteiger
Filippo Bortolotto
Kir Simakov
Leandra Rieger
Marc Sendra Martorell
Martin Sanchez
Paul Winwar
Stephen Leonardi
---
Street Photography
Finalist: Tom Chrostek
Judge: Viviane Labelle - Nike
"I love how the photographer juxtaposed this bright, sharp and bold world with a dark, soft and painted one. All together, it works so well, and makes me wonder if this person is about to walk into a painted dimension."

— Viviane Labelle
Shortlist:
Alexis Magnone
Ali Karimiboroujeni
Chuko Cribb
Clem Onojeghuo
Derek Lee
Gene Brutty
Jianwen Chen
Jimmy Jin
JiTian Pan
Taylor Friehl
---
Food & Drink
Finalist: Slashio Photography
Judge: Michele Outland - Gather Journal
"I chose this as the winning image because of the photographer's whimsical approach to the subject matter. And because the visual reveals both the literal beauty of this iconic ring-shaped treat and also manages to evoke the donut's essence: the pillowy texture and airiness indicated by the way they float across the frame. The powdered sugar, captured in granular detail, only adds to the overall lightness of the image, while dynamic lighting brings a touch of drama. A really fun food image."

— Michele Outland
Shortlist:
Adam Bartoszewicz
Amy Shamblen
Andrey Ilkevich
Anna Bratiychuk
Jakub Dziubak
Mads Eneqvist
Shayna Douglas
Svitlana
Tangerine Newt
Tyler Nix
---
Fashion
Finalist: Sergey Vinogradov
Judge: Francesca Wallace - Vogue
"There's something very arresting about this image, it feels very raw and emotional, and you can really see the story through the picture. The composition has a sense of juxtaposing feelings, the softness of the flowers with the strongness of the face. Within that, the colours, light and dark, are beautifully combined to create what is overall a very striking photograph."

— Francesca Wallace
Shortlist:
张 嘴
Apex 360
Camille Brodard
Dima DallAcqua
Joshua Oyebanji
Justin Essah
Ryunosuke Kikuno
Slava Pluzhnov
Tani Olorunyomi
Vladislav Nahorny
---
Film
Finalist: ONUR KURT
Judge: Jason Heward - Leica Camera
"The image is pretty timeless, reminiscent of those great B&W shots from 50s & 60s, of candid moments on empty NY streets. It draws the viewer in and you start wondering what's the story. The grain, the softer focus all adds to the narrative in a way that's hard to recreate in digital."

— Jason Heward
Shortlist:
烧不酥在上海 老的
Afonso Morais
Ali Nazari
Chris Weiher
Jade Stephens
Jake Johnson
Kelly Ziesenis
Lizgrin F
Riley Pitzen
Tanya Pro
---
Experimental
Finalist: Georgi Kalaydzhiev
Judge: Emma Davidson - Dazed Digital
"The category was incredibly strong, but Georgi's photograph stood out immediately. I love the weird, unsettling nature of the image – a seemingly normal, gloomy scene that's punctuated by this glowing, portal-like membrane. And are those hands or claws? It has echoes of some late-night sci-fi B-movie, and I immediately want to know more."

— Emma Davidson
Shortlist:
Altin Ferreira
benjamin henon
Bruno Guerrero
Evgeni Tcherkasski
FLY:D
Martin Sanchez
Nsey Benajah
Sonia Dauer
Sonia Kuniakina
Stewart MacLean
---
Health & Wellness
Finalist: Dave Goudreau
Judge: Victoria Estevez - Calm
"Health and Wellness is actually a multifaceted category. I decided on this photo leaning in on the wellness aspect. The person is embracing herself, the environment and the moment. I see this as peak wellness when you can throw your hands in the air and embrace who you are and where you are."

— Victoria Estevez
Shortlist:
alexandros Giannakakis
Anderson Santos
Caleb Russell
H.F.E & Co Studio
Hans Isaacson
Mulyadi
Scandinavian Biolabs
Susanna Marsiglia
Sven Mieke
Taylor Simpson
---
Architecture & Interiors
Finalist: Simone Hutsch
Judge: Marine Roucheyrolle - Airbnb
"This photo immediately caught my eyes, among the ones that were selected. I really like the obvious Wes Anderson vibe, but I also have so many questions: Is this building real? Where is it located? Is this a hotel, a British pub, or an apartment building? I love how the background makes it stand out even more. I think that this is how an architecture picture is supposed to make you feel: it makes you question reality, and I love it!"

— Marine Roucheyrolle
Shortlist:
108optics
Bayo Adegunloye
Deconovo
Hasan Almasi
jet dela cruz
Mike Kienle
Nicolas Arnold
Possessed Photography
Rui Silvestre
Vitaly Otinov
---
People
Finalist: Gene Brutty
Judge: Samia Liamani - Good Faces
"A great photo tells a story or makes you curious enough to want to know the story behind the subject. This photo is incredibly cinematic and pulls you right in. In Gene's photos, there is a pattern of having the light hit at just the right spots, creating an air of mystery and allowing the photo to be simultaneously crowded yet minimal. Love the framing and depth of the photograph. I'd watch the rest of the movie."

— Samia Liamani
Shortlist:
Alex Lvrs
Ana Markovych
Anderson Santos
Ben Masora
huanshi
Jonathan Borba
Rupinder Singh
Slava Pluzhno
Vladislav Nahorny
wilfried Vowoto
---
Current Events
Finalist: Tandem X Visuals
Judge: Erika Allen - Vice
"This is a beautifully composed photo, with the lines and textures of the shoes and stairs pointing directly to the subject, a person whose emotion emanates from the frame. It makes me want to learn more about the scene, their feelings, and the stories of all the children those pairs of shoes and stuffed animals represent."

— Erika Allen
The image above shows a memorial honouring First Nations, Inuit and Métis Nation residential school victims on the steps of the Saskatchewan Legislative Building located in Regina, Saskatchewan, Canada. Click here to learn more.
Shortlist:
Ehimetalor Akhere Unuabona
Emmanuel Ikwuegbu
Jaro Berbüsse
Jason Leung
Jean Soumet--Dutertre
Jonatan Pie
Mathias P.R. Reding
Nathaniel Tetteh
Ravi Sharma
vitamina poleznova
---
3D Renders
Finalist: Cash Macanaya
Judge: Alex Ainslie - Google Chrome
"Captivating materials, color, and light. The relaxed pose made me imagine that beneath the helmet, this astronaut's eyes are closed. I'm reminded of science fiction writing that removes real-world constraints while offering an opportunity for human reflection. A delight."

— Alex Ainslie
Shortlist:
Alexander Shatov
Dim Gunger
Dynamic Wang
Eduard Gross
Fakurian Design
Garvit Jagga
Luke Jones
Mo
OMK
SIMON LEE
---
Photo of 2021

We asked the community to vote for the image they thought was the most impactful photograph of the year. The votes are in, and the image that resonated most was Cameron Venti's incredible photograph where the street meets the stars.
Shortlist:
Cash Macanaya
Dan Asaki
Evengi Tcherkasski
Jaric Swart
Nsey Benajah
Paul Winwar
Philipp Pilz
Rob Potter
Vitaly Otinov
---
Thank you again to everyone in the community for supporting the fifth edition of the Unsplash Awards.
↪ Discover all the finalists and shortlisted photographers

Special thanks to our Judges and Partners